From a long time watches have been an ornament to show one's status. It came in daily use in the late 18th century, and as of today, it has become a part of every style.
Watches, aside from being used to keep track of time, has become one of society's established luxury items. It is a must-have accessory that ranges from the trendsetters up to the corporate leaders.
If you are looking for your watch, there is no better place to look than the country that has a luxurious reputation - Singapore. Check out the article below to know more about the trendiest watches in Singapore.
Watches
A watch is a timepiece intended to be worn or carried by a person. Despite the motions caused by the person's activities, it is designed to keep working.
Attached by a watch strap or other type of bracelet, a wristwatch is designed to be worn around the wrist. Wristwatches are one of the most important devices in the daily lives of human beings. It is required for keeping track of the time during day or night.
Wristwatches are one of the most critical devices for human beings. Options are not a problem as far as wrist watches are concerned, for they are available in various types of designs and models.
Types of Watches
There are many types of watches to take into consideration. From fashion watches to space watches, there is indeed a large variety of watches you can buy. Below is a list of the different types of watches.
Automatic Watches
Automatic or self-winding watches use arm motion to wind the watch's mainspring, making manual winding unnecessary.
Watch winders can also wind an automatic watch. Among watch enthusiasts, Automatic watches are still the most popular watch type.
Chronograph Watches
One of the most popular watch types on the market today are the Chronographs. The chronograph function on chrono watch dials lets you time events and races.
Diver Watches
Military divers were successful, but Jacques Cousteau popularized diving watches in his film Le Monde du silence.
Popular with scuba divers, Dive watches are water resistant to at least 333 feet and come with a unidirectional rotating bezel.
Fashion Watches
Fashion watches are accessories that make a statement about the wearer.
Italian Design Watches
Italian design watches, inspired by Italy's fashion-forward culture and rich history, are shaping the present and future of the watch industry.
Many Swiss made Italian design watches are combined with top design, first-rate technology.
Military Watches
Military watches are relatively new but play an essential role in wristwatch history. In the late 1800s,  the first exclusively military watch appeared.
Pilot Watches
These aviation timepieces which graced the wrist of pilots have reached the apex of the ideal fusion of style and durability.
From the Fortis Aviatis collection to squadron watches, pilot watches are tough and ready for anything.
Space Watches
These durable timepieces are a testament to man's achievements in space as astronauts wore them in outer space.
Sports Watches
Sports watches, aside from timing races, are setting new trends, as well. The popularity of oversized watches derives mainly from sports watches.
Many sports watches incorporate functions like GPS tracking and heart rate monitors.

Best Singapore Watches of 2019
LIBERTY L 5031 S-W
Usually, people desire fame and wealth. However, the most precious thing of all is to be able to shake off the obligation of expectations which stems from the feeling of being unencumbered.
Because freedom is the most valuable asset we have – freedom borne of an understated, simple style that the Liberty is known for.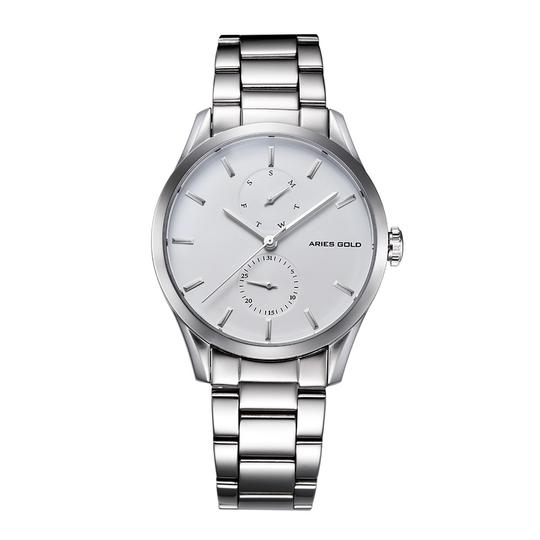 Features and Design
Model L 5031 S-W
Case Solid Stainless Steel
Strap Solid Stainless Steel
Glass Sapphire Glass
Water Resistance 5atm
Weight96g
Thickness 7.85mm
Case Size 36mm
Functions Multifunction with Day & Date
Movement Japan. Quartz.
Good For
Casual Wear
People who want a standard or classic metallic look
TAILOR MULTIFUNCTION ROSE GOLD-TONE STAINLESS STEEL WATCH
Tailor delivers fresh femininity with a three-link steel bracelet, glitz topring, and an eye-catching spirographic dial.
The electronic watch movement, which is more accurate than a mechanical movement, features a quartz crystal that oscillates when a current is applied to it.
Tailor delivers fresh femininity with classic steel platings and an eye-catching spirographic dial with a minimalist design taken to the max.
Features and Design
Case Size: 35mm
Case Shape: Round
Case Thickness: 10mm
Case Material: Stainless-Steel
Dial Color: Rose Gold
Functions: 3 Hand, Day, Date
Movement Type: Quartz
Closure: 2 Pusher Foldover Clasp
Circumference: 175 +/- 5mm
Strap Color: Rose Gold
Strap Width: 16mm
Strap Material: Stainless Steel
Collection: Tailor
Warranty: 2 Year Limited
Water Resistant: 5 ATM
Interchangeable: No
Eligible for Gift Wrap: Yes
Origin: Imported
Good For
All-around look, from casual street wear to elegant corporate attires
People who want a feminine and minimalistic feel.
G-STEEL GSTB100XA-1A
The G-STEEL connected lineup offers a model with a carbon bezel that is the product of state-of-the-art materials and innovative technology for the first time.
The bezel of this model has outstanding shock resistance characteristics due to its highly fashionable design and is made out of lightweight yet very rigid carbon material.
Clear sapphire glass, which is highly scratch resistant, is used for the crystal to enhance readability and appearance.
The watch can receive time information from an internet time server and is equipped with Bluetooth that lets it connect with a smartphone via the G-SHOCK Connected app.
For a stable supply of power, high brightness LED light illumination, and dual dial World Time, the functions include Tough Solar in combination with CASIO original power saving technology.
Features and Design
Shock resistant
200m water resistant
Solar powered
LED light (Super Illuminator)
Afterglow
Mobile link (Wireless linking using Bluetooth®)
Good For
People on the go
People who are particular in durability
Petite Lexington Gold-Tone Watch
The petite Lexington, which was borrowed from the boys, is the feminine counterpart to one of the brand's favorite timepieces for men.
This polished gold-tone stainless steel watch brings both functionality and style to the table through featuring Roman numeral indexes and a beveled bracelet strap.
Features and Design
Stainless Steel
Gold-Tone Hardware
Petite
26mm Case
Quartz/3-Hand Movement
Clasp Fastening
Water Resistant Up To 5 ATM
2-Year Warranty
Imported
Good For
All-around look, from casual street wear to elegant corporate attires
People who want a classic feminine metallic look
TISSOT CHEMIN DES TOURELLES POWERMATIC 80T099.407.16.047.00
Encapsulating an integral part of Tissot's history, the Tissot Chemin des Tourelles is an exceptional piece of the brand.
It takes its name from where the Tissot factory was established in 1907 and where the company can still be found today - the street in Le Locle, Switzerland.
Through a contemporary design with an elegant case, the watch compliments the company's vast years of expertise. The result is wonderfully luxurious, but still easily accessible thanks to the excellent value Tissot is always proud to offer.
Features and Design
Reference - T0994071604700
Origin - Swiss made
Warranty - 2 Years of Warranty
Collection - T-Classic
Gender - GENT
Case shape - ROUND
It is water-resistant up to a pressure of 5 bar (50 m / 165 ft)
Case Material - 316L stainless steel case
Length - 42
Width - 42
Lugs - 21
Thickness - 10.9
Case options - See-through case back
Weight (g) - 79
It is Crystal Domed, and is made out of scratch-resistant sapphire crystal with anti-reflective coating
Dial color - blue
Indexes - Arabic and indexes
Movement - Swiss automatic
Model - POWERMATIC 80.111
Caliber 11 1/2'''
Caliber Diameter (mm): - 25,6
Jewels - 23
Energy - Mechanical
Dial - HMSD
Reserve up to 80 hours
Strap reference - T600041857
Strap details - Leather
The strap front is made from embossed cow leather, which is an alligator look alike
Strap back - Synthetic
Strap color - Blue
Buckle butterfly clasp with push-buttons
Good For
Blush Leather Scallop Smartwatch II
The scallop smartwatch II was made for those who love to multitask and multi-slack. It keeps the user wise to the time and comes equipped with stylish tools and ones to stay organized on-the-go or on the couch.
It is powered with Wear OS by Google; it lets you download apps, track activities, monitor your heart rate, access google assistant, makes payments and set personal goals.
You can toggle between function-centric screens, control music and also get calls, message, and app alerts. The device is also voice-activated and pairs wirelessly with both iPhones and Android phones.
The trademark of Google LLC., Wear OS Touchscreen Smartwatches require a phone running Android OS 4.4+ (excluding Go edition) or iOS 9.3+. supported features may vary between platforms.
Features and Design
MATERIAL - genuine leather
touchscreen face
The watch can track activity such as steps, calories, and heart rate.
can make payments
wireless battery charge
music control
style # kst2009
19" screen
42mm case
16mm x 175mm strap length
imported
Good For
People who multitask
People who want a smart, feminine look
Takeaway
In modern times, watches are used to affirm your style with respect to your age and your social class. Not to forget that a wristwatch is functional, convenient and makes your life easier by having a good relationship with time.
A watch has many uses. From keeping track of time to being one of the latest fashion trends, watches are a must-have item for a modern man.
Watches come in all shapes and sizes. There are a lot of varieties to consider when choosing the right timepiece for you. However, it is always helpful to take into consideration the reputation of the brand and the quality of the product when picking out a watch.